Danang is also famous for the city of bridges as : Ha river Bridge, Tran Thi Ly Bridge, Dragon Bridge, Thuan Phuoc Bridge. And Dragon Bridge may be the most famous bridge in Danang City as an unique Vietnam's Bridge because the dragon's head breaths fire and spouts plumes of water.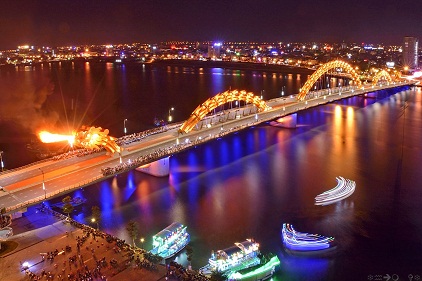 The Dragon Bridge is a bridge with a dragon over the Han River at Danang, Vietnam. Dragon Bridge is 666m long, 37.5m wide and has six lanes for traffic. The bridge includes a standing vibration level of six and navigational clearance of about 7m. It has a major span of 200m and two sidespans of 128m. The head span of the dragon's head measures 72m and tail span 64m. The bridge is illuminated by 2,500 LED lights at night. The bridge was designed by American architecture firm The Louis Berger Group.
The Dragon River Bridge is constructed over the Han River in the port city of Danang, Vietnam. The Han River splits the city in two, with the airport on the western side and beaches to the east. The bridge is the sixth to span the river, and takes its name because its design resembles a dragon, a creature with cultural significance in the country.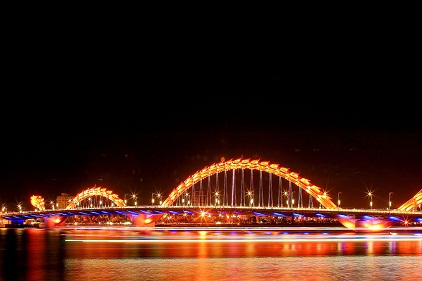 The bridge connects the Nguyen Van Linh Highway on the west bank (starting at the Cham Museum) with the seaside highway, Son Tra-Dien Ngoc, on the east bank. This allows tourists to travel between the Da Nang International Airport and the beaches quickly.
At 9.pm every weekends and holidays, the dragon on the bridge can breathe fire in 2 minutes and with 3 minutes of water breathing after while various-colored LED lights illuminate the dragon's head and body.