Bat Trang, traditional porcelain and pottery village with history of seven centuries, is an interesting attraction in Hanoi that tourists should not ignore.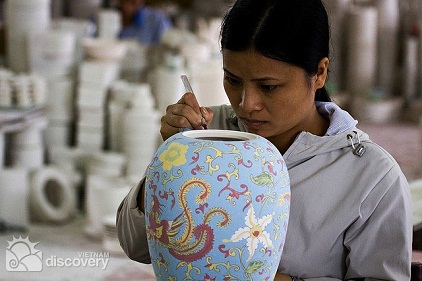 Located in an area rich in clay, the village has advantage of ingredients to create fine ceramics. Moreover, lying besides the Red river, between Thang Long and Pho Hien, two ancient trade centers in the north of Vietnam during 15th-17th century, Bat Trang's ceramics were favorite products not only in domestic market, but also foreign ones thanks to Japan, Chinese and Western trading boats that passed by.
In the18th and 19th century, due to restricting foreign trade policy of Trinh, Nguyen dynasty, it was difficult for pottery products in Vietnam to be exported to foreign countries, and some famous pottery making villages like Bat Trang, or Chu Dau ( Hai Duong province) went through a hard time. Since 1986, thanks to economic reforms and development, more attention has been vested in the village and the world gets a chance to know more about Vietnamese porcelain through many high quality exported Bat Trang's ceramic products.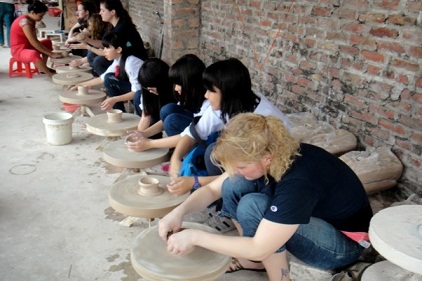 Bat Trang ceramics are produced for daily household use (bow, cup, plates, pot, bottle…), worshipping, or decoration purposes. Nowadays, the pottery artists bring into ceramics many innovations in production techniques, and creativity in products' features, hence many new products have been born, and even daily household items may have the beauty like decoration ones.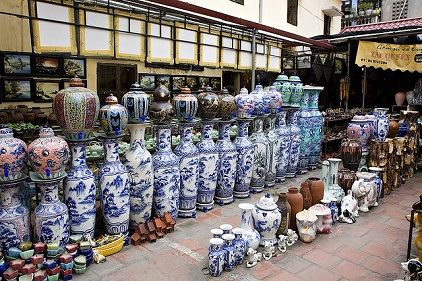 Visiting Bat Trang, tourists can take a walk or join a buffalo tour for sightseeing and shopping. Besides many ceramic stores along the road in the village, tourists should visit Bat Trang Porcelain and Pottery Market where they can directly make pottery products by themselves. Many youngsters and foreign tourists are interested in in this pottery- making experience, and spend a whole day in the market to make a gift for family or friends.
Location
Bat Trang belongs to Gia lam district of Hanoi. You can catch the bus 47 (Long Bien- Bat Trang) that stop just a few steps from Dong Xuan market with the end terminal in Bat Trang. The bus runs every 20 minutes. You can also ride a motorbike from the center of Hanoi to Bat Trang ( 20 minutes) – rent one or ask a Xe Om to take you there!