Ho Chi Minh City's Cholon is Vietnam's largest Chinatown with roots dating back to 1778; it's also a place of great historical and cultural importance. Chinese minorities hid here from the Tay Son and subsequently had to rebuild the area twice following attack with as many as 70% estimated to have died trying to escape on boats. Those who survived settled and began selling a variety of Chinese products. During the Vietnam War Cholon was a thriving black market for US soldiers trading in American Army issue supplies.
The area today is a popular site for those on the tourist trail and also attracts many Taiwanese and Chinese visitors. Cholon is an interesting place to see classical Chinese architecture reminiscent of years gone by with plenty of Chinese restaurants.
The Binh Tay market at the centre is busy, crowded and messy with small aisles selling all manner of goods. This market sometimes disappoints tourists when compared to other markets in Ho Chi Minh as the products are not that varied, but the main draw to Cholon is not to shop but to enjoy the authentic Chinese atmosphere that has existed here for hundreds of years. It's a wonderful place to experience at night.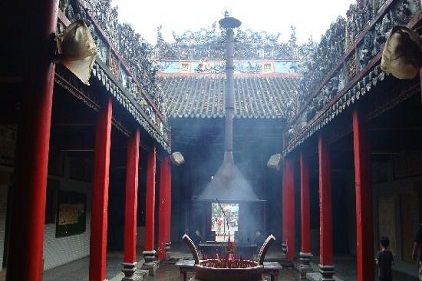 Cholon Attractions
The crowded Binh Tay Market is the major attraction in Chinatown and offers everything you can think of, from fresh produce to Vietnamese goods and especially items with a Chinese flavour.
Temples in this area include Thien Hau Temple on Nguyen Trai Street and Quan Am Temple, on Lao Tu Street. Both feature interesting Chinese-Buddhist style architecture and interiors with pagodas, courtyards, altars and paintings. Chinatown is also home to the Cholon Mosque on Nguyen Trai Street and Cha Tam, a small Catholic cathedral on Duong Hoc Lac Street.