Minh Chau Beach is a private beach located on Quan Lan Island, Quang Ninh Province, which is only 15 kilometers away from Quan Lan Beach. For those who want a long journey, a trip to Minh Chau Beach would be a wise choice.
The unique feature is the pristine white non-sticky sand that gives a comfortable sensation walking on. The beauty of the beach resembles the famous Snow White. On Minh Chau Beach, tourists would love to enjoy a variety of beach activities, camping, exploring the island, looking for rare sea animals of the island, or releasing your body and mind into a quiet and relaxing ambiance on the beach under the moonlight.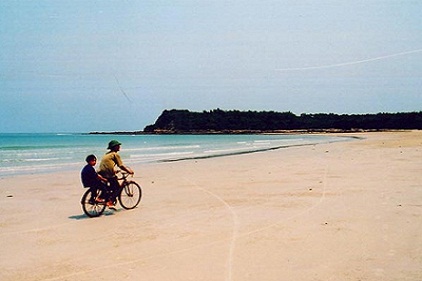 Tourists who are interested in visiting Minh Chau Beach can depart from Cam Pha District (Halong) and get a ferry for 9 kilometers to Cai Rong Town. Then, canoes would be the last transportation to Quan Lan Island, where Minh Chau Beach is located, for around three hours. I that three hours, tourists can also visit fishing villages and tropical green islands to enjoy the stunning landscape of the bay.
Besides the opportunity to enjoy the magnificent landscape and beach activities, tourists will be pleased with a lavish menu of delicacies from Halong Bay from high-end hotels and restaurants on the island.