Phat Diem Cathedral is one of the most famous and beautiful churches in Vietnam with special architecture: an elegant combination of Western architectural style and Vietnamese religious buildings. Phat Diem Cathedral is a complex comprising a lake, a cathedral, a stone church, Phuong Dinh (bell house) and three artificial grottoes.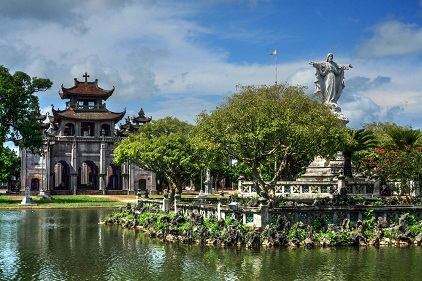 Phat Diem Cathedral is Vietnam's most distinctive Catholic church with strong traditional Vietnamese design elements and a rich history. Phat Diem was built in 1875s to 1898s and it took 24 consecutive years. Phat Diem Cathedral was designed by a Vietnamese priest, known as Father Sau. Father Sau rallied the local population to build the cathedral, five side chapels, three artificial grottoes, an artificial lake and a bell tower.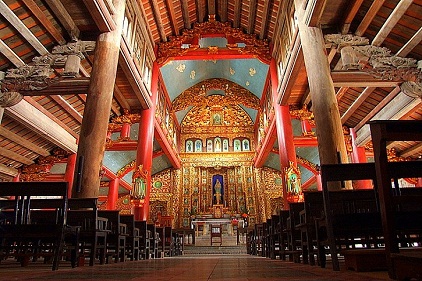 In the middle of the lake, there is a small island with statue of Jesus Christ. Phuong Dinh easily becomes the next eye-catching monument, with stone carvings on both sides of the walls. It is 25 m high, 17m wide and 24m length consisting of three floors built of boulder.. The first floor is covered by large green flagstones. In the middle of Phuong Dinh, it has a monolithic table; outside and inside, there has the bas-relief carved images of Jesu with elegant lines.
The second floor of Phuong Dinh, it hangs a big drum. The third floor hung a bell with 1.4 meters height, 1.1 meters in diameter and 2000 kilograms weight. This big bell was casted in 1890. Phuong Dinh's roof has five arches; the highest arch is in the middle of the third floor. Roof of Phuong Dinh in Phat Diem cathedral is not soaring as the other churches; it has ancient roof and same the roof of temple, pagoda.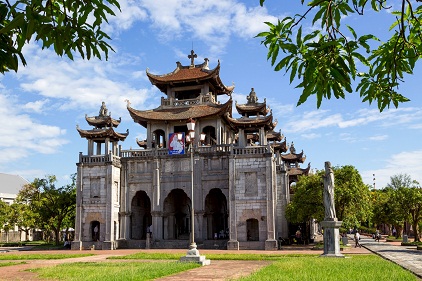 The cathedral is 74 meters long, 21 meters wide and 15 meters high with four roofs. Inside the church there includes 6 monolithic ironwood columns; two rows of columns with 11 meters height, 2.35 meters in circumference, 10 tons weight in each column. Besides, it has a large altar was made by a monolithic boulder with 3 meters length, 0.9 meters width, 0.8 meters height and 20 tons weight. In the front of the boulder, it was carved with flowers of the four seasons. Two sides of the cathedral are 4 churches with the unique architectural.
Next to the grand cathedral is a church named "Nha Tho Trai tim Vo Nhiem Nguyen Toi Duc Me" . But people usually refer to it as "Stone church" because its walls, pillars, ground, bars and beams are made of stone.
The inside of the church has many sophisticated carved reliefs, with chrysanthemums, bamboo, fir trees and apricot trees that symbolize four seasons in a year. Around Phat Diem Cathedral, there are a lot of beautiful stone caves and artificial mountains.