Traditional Vietnamese Water Puppet Shows remain one of the cultural draws for most travellers to Ho Chi Minh City.
Originating in the sodden rice paddies of the Red River Delta in North Vietnam, the two most popular places to see a water puppet show in Ho Chi Minh are at The Golden Dragon Water Puppetry Theatre and at the Villa Song Saigon (formerly Thao Dien Village). Depicting the culture, traditions and folklore of Vietnamese life, visitors are entertained by puppets acting on a 'stage' of water accompanied by live old-fashioned music played on authentic instruments.
Shows are performed entirely in Vietnamese which is not a problem for the visiting tourist as the puppet gestures are obvious enough to keep the audience enthralled. The musicians are often positioned to one side of the stage adding in sound effects and songs as the people-styled puppets, dragons, fairies and other ornamental figures dance across the stage.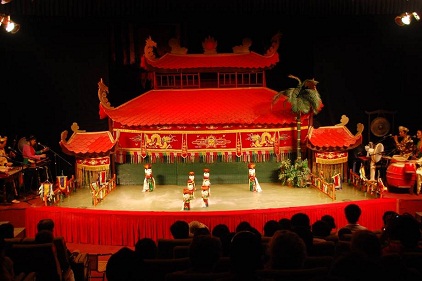 Water Puppet Shows Highlights
The Ngon Restaurant at Villa Song Saigon is the location for a creative weekly water puppet show performed while you dine on Vietnamese cuisine. Like other water puppet shows there are tales of myth and magic interjected with plenty of humour. Performances take place on a water stage which is usually four metres square with highly skilled puppeteers hidden behind a painted bamboo screen. Long rods are used to manipulate the wooden puppets which are brightly coloured and carved in detail.
The Golden Dragon Water Puppetry Theatre is situated inside Tao Dan Park and offers twice nightly shows; it is very wise to book in advance however as this is a popular draw for locals and tourists.
Both venues delight audiences with an entertaining glimpse into this ancient Vietnamese art form which has won countless awards across the world. The secret of the effortless movements of the puppets still remains closely guarded, as it has been for centuries.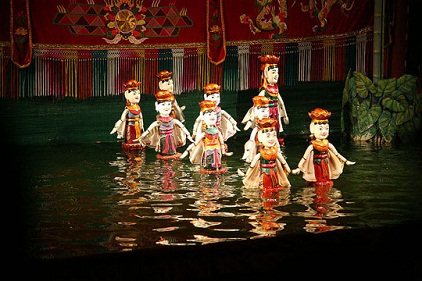 The Golden Dragon Water Puppetry Theatre
The Golden Dragon Water Puppetry Theatre is located at 55B Nguyen Thi Ming Khai Street at the City Labour Cultural House inside Tao Dan Park. Show times are daily at 18:30 and 20:30 and shows last 50 minutes.
Tickets for performances at The Golden Dragon should be bought in advance from a tour operator to avoid disappointment as the theatre is small with limited seats.
Water Puppet Shows
Villa Song Saigon (formerly Thao Dien Village) has one weekly Water Puppet show held every Saturday at the Ngon Vietnamese Restaurant. Showtime is 19:30 and finishes at 20:00 and the village is on Nguyen Van Huong in District 2.