Travel to Halong always promises a great experience to travelers, in any occasions during the year. Tet Holiday is not an exception, although there are things you should learn to expect in advance.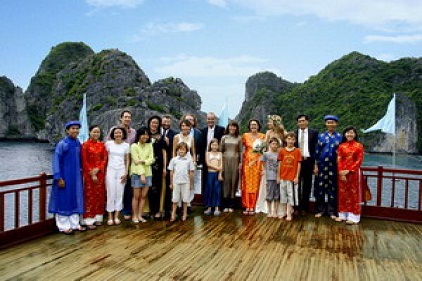 Tet, or Lunar New Year, is the most important holiday of Vietnamese where family gathers and business closes to celebrate the new year. The Tet "air" is everywhere with colorful flowers and people greet each other with smile and happy handshakes. You will likely see a-lot-happier and more passionate, more friendly and intimate Vietnamese than they would normally do in other time of the year: it is believed that what one does in the first day will be replicated for the rest of the year.
Some cruises will close for holiday and they usually do so between 3 and 5 days - this means you could not choose the one that you exactly want. For sure you will have a more limitted number of options. The good news is that, the ones that still run will often offer a wide range of service such as organizing dinners or activities to help guests understand better of Vietnamese culture - something that is only offered during Tet.
In terms of weather, although Tet Holiday is not in rainy season, but there is also drizzles so please remember to carry umbrella or raincoat when you go out. Travel to Halong Bay during Tet Holiday might be great for some travelers, or terrible to some others, but the truth is that the bay is still magnificent as ever, and it is still worth experiencing this charming destination during special occasion like the Tet.
When is Tet Holiday?
Tet 2014: January 31st - February 3rd
Tet 2015: February 19-22
Tet 2016: February 8- 11