Hoi An is a great place to make you and your stomach both happy during the day and nights. With the price is around 50.000 VND (2 USD) per dish and may cost around 20 – 30 USD for a full day of delicious food. So you are free from the worry of spending a fortune on eating. If you arrive this beautiful town and want to try some the best food, below is a sample day for you:
In the morning, there are some choices to prepare for an energetic day:
+ Quang noodle: Traditionally, its main ingredients are shrimp and pork, which are also used to cook the broth and as toppings together with peanuts and rice crackers. But the dish has gradually become diverse with more toppings like chicken, fish, squid, eggs, snails, and even frogs.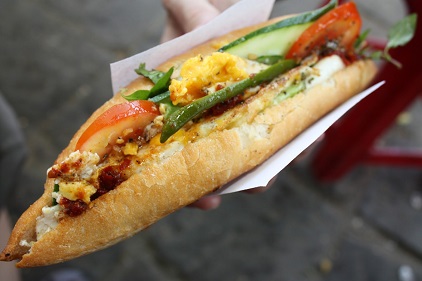 + Banh my Hoi An: Bread with load of ingredient inside from grilled pork to fried eggs. Some famous name can be listed as Banh My Madam Khanh and Banh My Phuong
In the afternoon, it's time for a big lunch:
+ Hoi An chicken rice: A dish of chicken rice is mouth-watering with its pleasantly yellowed rice topped with hand-shredded chicken and herbs. It is served with a small bowl of soup containing some chicken giblets like heart and liver.
Delicious dinner for the best satisfying feeling:
+ Cao Lau: Its al dente noodles, for instance, look raw and thick like Japanese udon. Its toppings include slices of pork that look like char siu or Chinese barbecued pork.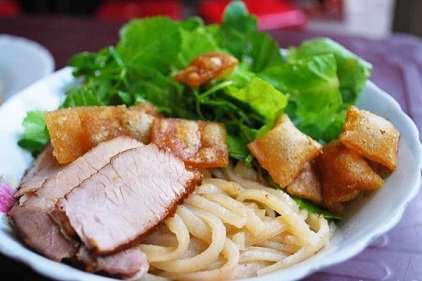 + Hoi An grilled pork, various type of cakes, sweet dessert such as tofu/ soya bean pudding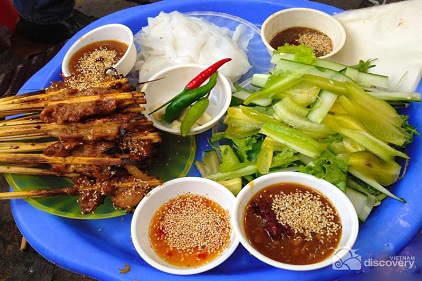 Besides some above famous dishes, there is a wide variety of seafood or international food for people who want to find some familiar taste as in their home country. No matter what your taste is, Hoi An has the best solution for you.