Besides a lot of temples and pagodas, Cambodia is known for beautiful islands that surely make visitors love at first sight. White and smooth sand, clean water, fresh air,.. all of them bring a charming Cambodia to visitors.
1. Koh Rong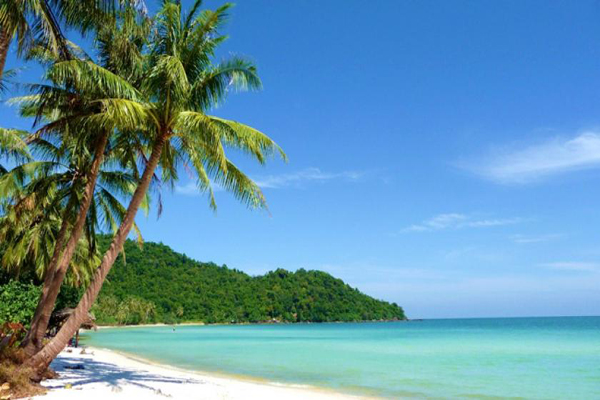 Being the most attractive island in Cambodia but Koh rong still remain pristine feature. Long time ago, all amenities are only wooden hotel , surrounded by tropical forest and sunny beaches. Gradually, these facilities are improved and budget hotels appear. Comming here, visitors can join walking to breathe clean air, climbing and exploring forests in the island. For visitors who love swimming and sunbathing, Koh Rong is the best choice.
2. Koh Thmei
Located in Ream National Park, Koh Thmei has variety of flora and fauna such as monkey, civet, lizard and more than 100 species of birds. There is only one place for tourists to rest named Koh Thmei Resort, designed with a row of wooden houses. A lot of activities are available here like kayaking, swimming and seeing dolphins as well as underwater sports.
3. Koh Tang
Koh Tang (also known as Tang Island) is the biggest of a group of Cambodian islands off the coast of Sihanoukville Province in the Gulf of Thailand. The island is situated approximately 52 km off the southwest coast of Cambodia. There are no permanent civilian inhabitants living on the island. The Cambodian military maintain a base with a sizable number of personnel. Visitors can not only swimming but also diving to explore and see sea creatures as well as colourful coral reefs in warm water.
4. Koh Rong Saloem
Koh Rong Samloem, also spelt Sanloem and Saloem,situated eighteen kilometres due west of Sihanoukville, is the main beach resort and one of the top island to visit in Cambodia after Koh Rong Island. The island is a peaceful 'getaway' destination which is much more tranquil and also much less developed than the larger island known as Koh Rong situated about a ten-minute boat ride to the north. Clean beaches of the smaller island suffer substantially less of the noise and light pollution that has become a problem on the sister island due to the extensive construction work as well as the all-night bars and party music that blasts out to attract the budget travelers dancing through the night.
5. Koh Ta Kiev
Koh Ta Kiev is locate 13km southeast of Sihanoukville just offshore from the Ream National Park. Despite the fact that the island has been leased to French and Chinese property companies,and a proper road has recently been sliced through the jungle interior signalling major development may not be far off, for the moment Koh Ta Kiev has a handful of budget-friendly, basic digs with serious chill-out factor.
On the island, tourists can participate in dozens of interesting activities including scuba diving and snorkeling, jungle treks, fishing, swimming, exploring the island and joining cooking classes on the beach.