Bai Dinh Pagoda is famous for its great size and is a cluster of Buddhist architectural structures, consisting of new, giant and imposing temples of the newly-built Bai Dinh pagoda area which play off ancient and respected shrines of the old Bai Dinh pagoda area. Bai Dinh pagoda is a large population known as many records such as: the largest pagoda of Vietnam, the biggest gold - plated copper of Asia and the longest lobby in Asia.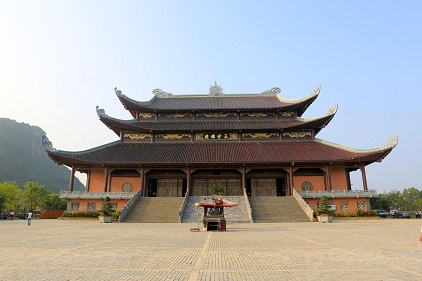 Covering 539ha in Gia Sinh Commune, Gia Vien District, the Bai Dinh pagoda mountain area nestles amidst the Trang An eco-tourism complex.
Built in 2003, the new Bai Dinh Pagoda is located on 80 ha. It nestles against Bai Dinh mountain and faces a lake near Hoang Long River. Big, bold and solemn structures, deeply imbued with Vietnamese architecture, were arranged in five layers upward, including a temple's inner Three Entrance Gate, a bell tower, a temple dedicated to Bodhisattva Avalokitesvara, Phap Chu temple devoted to the Shakyamuni Buddha, and Tam The Templededicated to Buddha.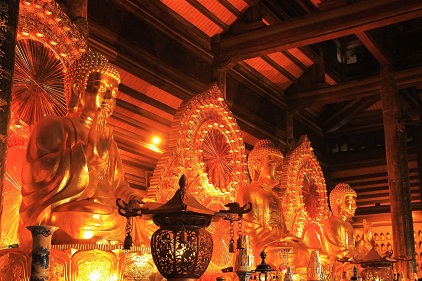 The most important emphasizing point of these great religion works are still Tam The Temple and Dharma Temple. The area of two Temples up to 1000 square meters (area of the main sanctuary of traditional pagodas is maximum about 150 square meters because it is limited by compartments - stipulated by the length of wood beam). The height of Dharma Temple is up to 22 meter, it contains four achieving record statues inside. Four statues - three bronze Tam The statues and one Great Buddha Sakyamuni statue - are the pride of "Owners" of Bai Dinh pagoda. Each statue of Tam The weighs 50 tons, 12m high, Great Buddha Sakyamuni statue with 16m high and weighs 100 tons.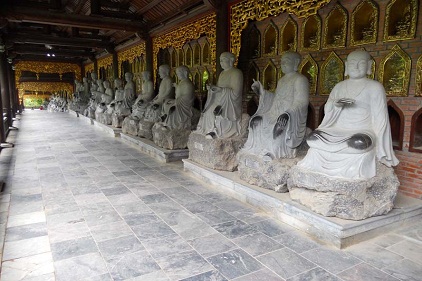 Moreover, the astonishing one is the "collection" of 500 Arhat statues on the hill in the right of Dharma Temple. The 500 Arhat statues with the height of 2.3 meters, carved by Ninh Binh stone.
The population of Bai Dinh pagoda includes ancient pagoda area and a new pagoda area. New pagoda has monumental architecture but having traditional identity consistent with Vietnam today. Ancient Bai Dinh Pagoda is far about 800 meters from Tam The temple alongside Dinh Mountain. This pagoda is located near the top of a quiet forest area, including Buddhist cave, the temple of God Cao Son, and the temple of Nguyen. The pagoda was recognized as historical-cultural of the nation. There are many architectural details and antiques marked of reign of Ly.