Enjoy a leisurely cyclo ride through Hue, the former Vietnamese capital, including Hue Imperial Citadel—a UNESCO World Heritage Site. Cyclo ride is the best way to explore Hue city. You just sit on the cyclo to go through nice streets to get good look in Hue city.
There is a very authentic way to discover the hidden charm of Hue and the places hidden away from tourists. It is by a very popular vehicle in Hue called the cyclo or rickshaw.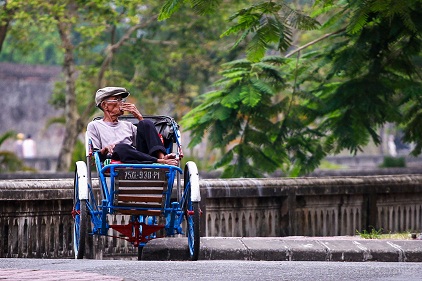 Starting Hue Cyclo Trip by crossing the Perfume River on the Trang Tien Bridge. Then riding along the famous Dong Ba Market. From here, you can follow a branch of the Perfume River to an area full of local shops where you can see lots of trading activities. Next, you will turn left into the area surrounding the Citadel where local people have lived for generations in their old style houses. This area seems not to have been influenced by the touristy area, and people still carry on their business and lives just as they did a hundred year ago. While sitting on the cyclo, all of the activities on the street, in the shops and in the houses, just happen around you, and you can feel like you are a part of it.
The cyclo will take you past Tinh Tam Lake (meaning "Peace of Mind"). The lake was built by the King at the same time as the Citadel and is very well-known as the best place in Hue for growing Lotus. Strolling along its side, you surely can feel the peace and greenness of this most famous lake in Hue.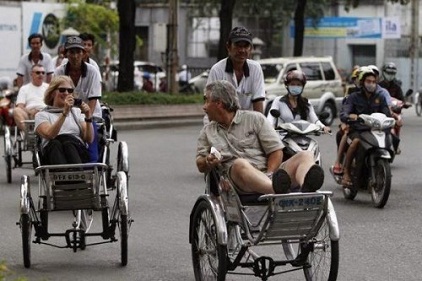 Going from Tinh Tam Lake toward the Imperial Citadel, you can see more trading activity at the many local shops along the street. Most of the items that people need in Hue are sold here. There is one whole street just for the selling of used motorbikes, a very popular item for every family in Vietnam.
Pass through the high stone walls of this royal city and ride to several major landmarks within the complex. First, stop at the Flag Tower, built during Emperor Gia Long's reign in 1807 and later improved by his son, Emperor Minh Mang. From this focal point, your cyclo driver will take you to Noon Gate, which leads to the Imperial Palace. Learn how the gate was deemed for ceremonial use and as an observation point for the emperor to view his troops.