25 June, 2016 ODC Travel
Danika Garlotta and her husband Chris are traveling around the world and sharing their experiences.
One thing we quickly learned, was that eating in Vietnam is a very different than eating in a Vietnamese restaurants in the US or Europe. Below are a few things to keep in mind when while looking for a bite to eat in Vietnam.
Be adventurous
Many restaurants in Vietnam (especially Hanoi) don't always look like traditional restaurants in the US or Europe. Sometimes, the "restaurant" is the front room of someone's house, and they serve food to you in what is essentially their living room. Sometimes the "restaurant" is just a grill setup over an open fire on the sidewalk. If you see people sitting on little plastic stools, go ahead and join them. We did this many times, and had amazing meals, and never died. It's perfectly safe.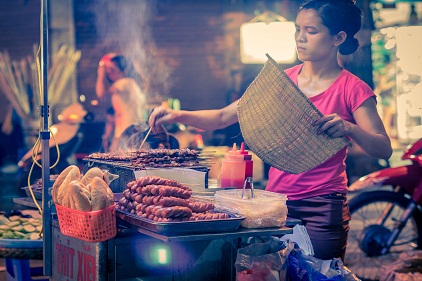 Look for locals
This golden rule of eating in a foreign city applies anywhere, but especially for Vietnam. If you look into a place and see nothing but wide eyed westerners looking back at you, run away. Often times this tactic does mean that you will end up going into places that may appear to be less than "100% sanitary" (though you'll get over that quickly in Vietnam), and they most likely will not have a translated menu for you. Deal with it. Find someone who is eating something that looks good and point to it when you order. Odds are you'll get delicious, authentic food, and for a fraction of what you'd pay in a restaurant that caters to foreigners.
Don't always expect to get a menu: Many places we ate in Vietnam only served 1 dish. You basically walk up, grab a stool, and within 30 seconds someone walks over and puts down a bowl or plate of what ever it is that restaurant makes. It could be skewers, bun cha, pho, or something else you may not always recognize, but whatever it is, that's what you're going to eat, there are no substitutions.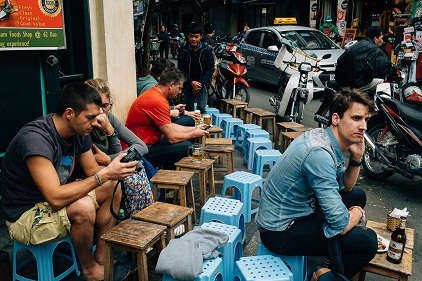 Drink beer
It's hot in Vietnam, and nothing helps cool you down like a glass of beer. You'll see it for sale everywhere. We bought some from an old lady selling it out of her house, and we sat with her on little stools on the sidewalk and drank a few bottles. Also, a bottle of beer is cheaper than a bottle of water in Vietnam, use that to your advantage, and remember beer is 95% water anyway! Cheers!
Speaking of Beer, try Bia Hoi
This is a dirt cheap local style of Vietnamese beer. Expect to pay a few pennies for a glass. Bia Hoi literally means fresh beer. It's brewed each the morning and is sold later that day! Don't be turned off when you see it served with large amounts of ice. It's surprisingly refreshing and when it's hot and humid (even inside the air conditioned rooms), you'll be thankful.