02 July, 2016 ODC Travel
When I first began planning my time in Vietnam, I did it without knowing anything about which day the Lunar New Year would fall in 2014. I was basing my decision more around the holidays back home in the U.S., and my elephant volunteering gig in Thailand. It just so happened, though, that I found myself in Vietnam as the country prepared for and then celebrated Tet, or the Lunar New Year in Vietnam.
In the U.S., Christmas and New Year's are packaged more or less as one giant holiday, and that's kind of what Tet is, too. The locals celebrate the coming of the Lunar New Year with all sorts of celebrations, including a "holiday" period that can last for days. And, just like in the U.S. where we buy Christmas trees and have New Year's Eve fireworks, there are specific things to do when celebrating Tet, too.
Preparing for Tet
Preparations for Tet begin weeks before the actual holiday.
Buying a tree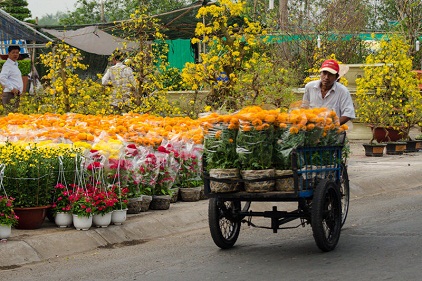 Much like my family buys a pine tree in December for Christmas, Vietnamese families buy plants for Tet, too. In the north, the plants of choice are either peach blossoms of kumquat trees. In the south, people also buy huge bunches of yellow chrysanthemums to decorate their homes for the New Year.
Kitchen gods ceremony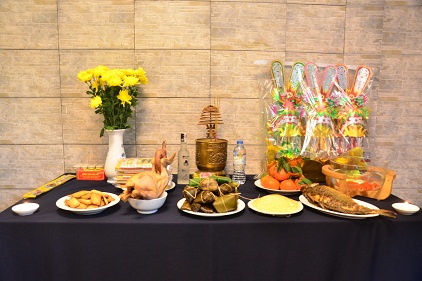 In nearly every Buddhist house in Vietnam, you will find a small icon in the kitchen of the three "Kitchen Gods" — one female and two males who look over and protect the home. On the 23rd day of the last month in the lunar calendar, these gods return to the heavens to report back to the Jade Emperor. There is usually a ceremony to celebrate this day, and the kitchen icon is usually replaced. Along the riverbank in Hue, we saw several "retired" kitchen god icons along with offerings
Pray for the coming year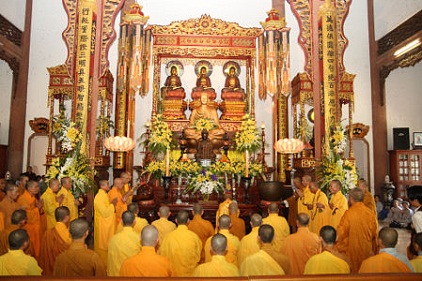 In Hoi An, we visited a few traditional-style Chinese assembly halls. Inside, they were all hung with large coils of incense — coils that would be lit on New Year's Day and take up to two weeks to finish burning. Hanging from each coil was a prayer, basically asking for good luck and good fortune for each member in a family in the new year.
Preparing special food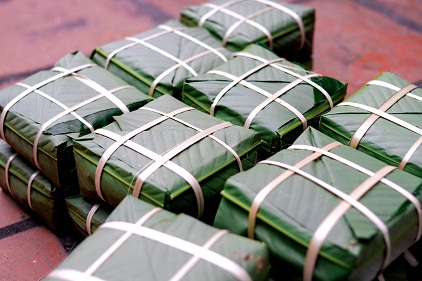 The most popular food to prepare for Tet is Banh Chung — chunks of pork fat coated in mung bean surrounded by rice and wrapped up in banana leaves. This is then boiled and served as a special treat for Tet.
Extra decorations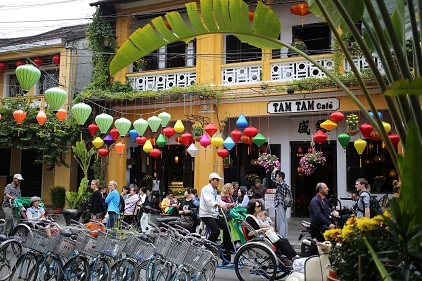 In Hoi An, extra lanterns were hung all over the city. In the Imperial Citadel in Hue, large pink blossoms were dotted around near the river and good luck ornaments were hung on trees.
The real surprise came when we arrived in Saigon, though, which went all-out for the holiday.
Tet in Saigon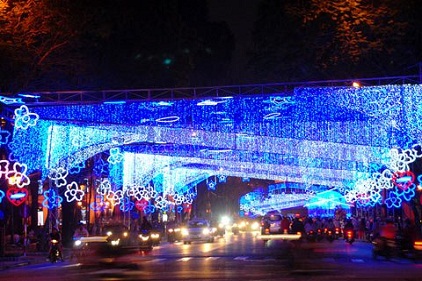 Talk to anyone who lives in Saigon (Ho Chi Minh City) full-time, and they will tell you that the city "empties" for Tet. Residents head home to their families in the north, markets and shops close up for days, and there's much less traffic than usual.
To me, though, Saigon still looked like a bustling, lively city — and it was completely decked out for Tet.
In the evening, flowery lights stretched over intersections. Whole streets closed down and were flooded with people and the smell of street food. A decorated park displaying twisted bonsai trees and perfectly-pruned flowers had the same family-friendly atmosphere as the county fairs I love so much each autumn at home. Squares and well-known buildings were covered in twinkle lights, and there was music everywhere.
I've been to some cool celebrations and festivals all around the world, but the way in which Saigon transformed for Tet really impressed me.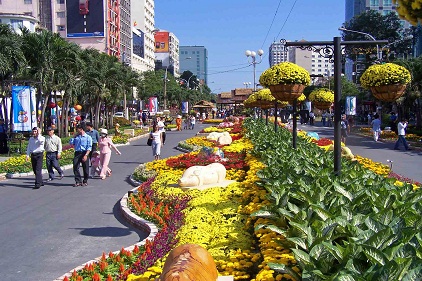 On January 30 (well, by my calendar), the city celebrated New Year's Eve with an elaborate fireworks show over the river. My Intrepid Travel tour group went up to the roof of our hotel to watch and celebrate our last night together as a group.
The next day, everyone in Saigon — locals and visitors alike — seemed to be out in the city. Little girls wore colorful dresses and families snapped photos in front of elaborate decorations. It was hot and chaotic, but also so fun to experience.
On this occasion, I was really glad to be visiting a place during a major holiday.