28 June, 2016 ODC Travel
Weekend 20 to 22 March 2015 - I bought a ticket at Hoàng Long bus company in Hanoi and traveled to Cát Bà island for 3 days. It took me 4 and a half hours to travel by bus and speed boat from Hanoi to the island. It is 20 years since my first trip to Cát Bà island.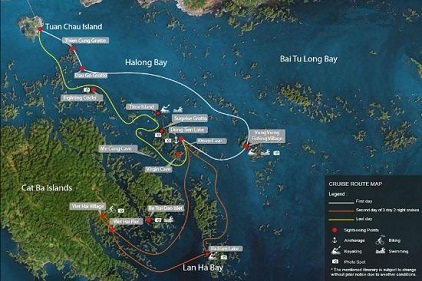 I still remember that day when my boat was approaching the island at the sunset. I saw some simple buildings along coastline and rock mountains behind them. At that time there was no electricity on the island yet and the locals had to use generators at night. Today Cát Bà island is a very popular tourist destination and it has changed a lot. The purpose of my trip this time was to visit Lan Hạ bay which is located south east of the island. I planned to do this tour 3 years ago on my last visit but I missed it.
As soon I stepped out of my bus, a Vietnamese man approached me to introduce his hotel at the center of the island. I chose to stay at his hotel and had a room on the 5th floor. It was not pleasant to walk and down stairs, but I had a great view of the bay and fishing boats. It was the same view that I got at this place 20 years ago. When I woke up in the morning, I saw fishing boats and islands in the mist. March is in the low tourist season, so I got a cheap room. During the summer time, the same room can be 5 times more expensive. The one day tour to Lan Hạ bay costs USD20. It starts at 8am and finishes at 5pm.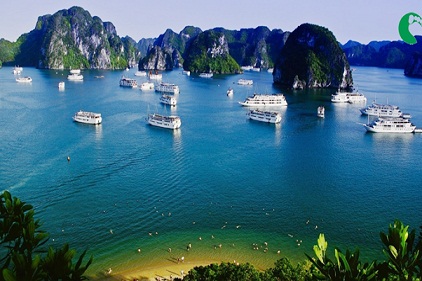 The first destination on the tour is Monkey Island and I saw about 10 monkeys there. Tourists can get a great view of the bay from the top of a mountain. I gave up climbing up this mountain in the middle of the way as it was very hard to walk up and down narrow rocks with my sandals. After that our boat went up to Hạ Long bay for tourists to do kayaking. I didn't do kayaking and planned to stay on boat, but a Vietnamese guy working on our boat was very kind to show me around the area by a little boat. I was disappointed to see some parts of Hạ Long bay was quite dirty. It was very different with 10 or 20 years ago.
After having lunch on boat, tourists could swim for 30 minutes in a clean area of the bay and it closes to some nice beaches. The most exciting part of the day was to watch tourists jumping down sea water from the top of a rock island. It's 15m high and for some tourists it was quite scary and it took them a lot of time to think if they could jump down or not. There was only a girl doing this, while there were about 10 young western guys. They needed good shoes to climb up rock and braveness to jump down. It was good fun for everyone and in some cases we as audiences had to give them encouragement by counting "1, 2, 3, jump!".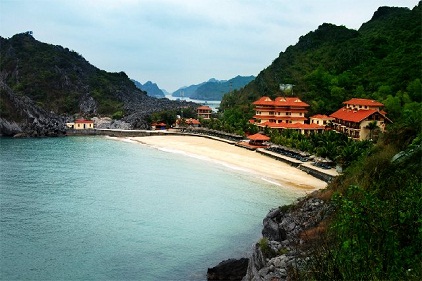 The tour finished at 5pm and we went back to the center of Cát Bà island. The weather was not good so my photos didn't look great. As always, it's good to get out of Hanoi for a few days to get some fresh air of the sea, enjoy seafood, see new places and meet new people.
Travel tips: You can travel at cheap costs like I did. Bus and boat ticket from Hanoi to Cát Bà island at Hoàng Long bus company VND 220,000 (USD 11). Hydrofoil from Cát Bà island to Hai Phong city VND 150,000 (about USD 7.5), bus from Hải Phòng to Hanoi VND 70,000 (USD 3.5). Tour to Lan Hạ bay VND 420,000 (USD 20). If you book this tour at Alibaba hotel, it will be cheaper as this is the original place where they organize the tour.