Located within Hanoi Old Quarter, the ancient house at 87 Ma May street which was built at the late of the Twentieth century, is quite intact with typical architecture of ancient houses on Hanoi street.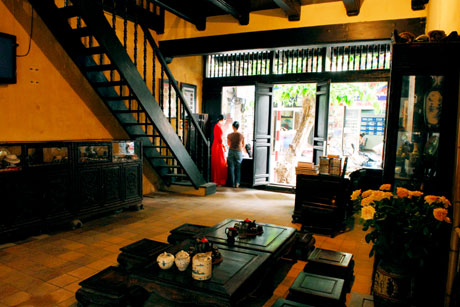 The house consists of two main blocks linked together by a square yard in the middle on the ground floor, and a small balcony on the 1st floor. The yard is included at the centre of the building to moderate the air, provide the house with sunlight and cool winds. The balcony above is an ideal place to put small plants, flower pots for the owner's interest and relaxation.
The room on the ground floor which is street- front is used for selling goods, and the room on the next floor is living room to host the guests and worship the ancestor also. The room which is behind and linked to the living room by a balcony is bed room. On the ground floor, all behind space is for production activities, then kitchen and bathroom.
All of the walls in this house were painted with typical yellow color like other ancient Hanoi houses, and all furniture, decoration items are reserved in good condition. Though being restored in 1999, this house still remains real and ancient beauty of itself.
Today, the ancient house is open for tourists to come here and see how ancient Hanoian lived, enjoy as well as buy some Vietnamese traditional decoration items, souvenir.
How to get there
The ancient house sits at 87 Ma May street, a popular street in Hanoi Old Quarter. You can easily walk there for less than 10 minutes from Hoan Kiem lake.