Banh Trang Cuon Thit Heo is one of speciality in Danang. Its name has show the main material and the manner to eat it. One dish is simple but very tasty flavors, leave much impression in the hearts of visitors, working in Danang.
Banh trang cuon thit heo, literally pork and vegetables wrapped in soft rice paper, which is one of Da Nang's three traditional culinary dishes, has made it into the list of Vietnamese specialities. It is a nutritious food with fresh ingredients – pieces of rolled belly pork, a variety of fresh vegetables and herbs, along with thin slices of cucumber, green bananas, and a dipping sauce. The vegetables are bought from Da Lat, Hoi An and Da Nang. Furthermore, various dipping sauce, suitable for the taste of visitors from the north, south or central regions, are also provided.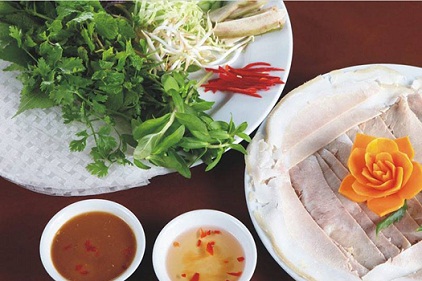 This dish does not require a fussy process, but very simple and easy to eat. Danang pork and vegetables wrapped in soft rice paper is famous for selected materials thoroughly which makes perfect taste for the dish. Pork butt or shoulder portion only, then steaming them slightly to keep the sweetness. Vegetables are common kinds and easy to find. However, they must be fresh, green, not wilted including salad, basil, lettuce, green onions, herbs, bitter herbs, bean sprouts, white banana flower, cucumber, banana…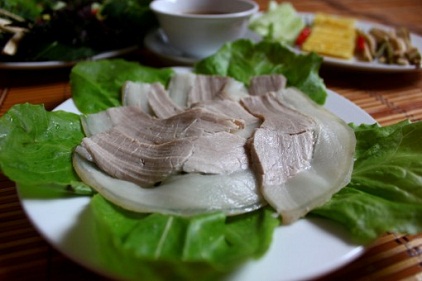 The most special thing of this dish is the dipping sauce which makes the dish unforgettable and nothing else can replace it. The tough rice paper and the soft wet rice paper mingled with sweetness of pork, fresh vegetables and spicy fish sauce make this dish irresistible.