Bun Man, a popular and simple dish of Da Nang people has become an unforgettable dish to many travelers to this coastal city.
Bun mam is made out of vermicelli, pork or roasted pork, vegetables, unripe papaya, peanuts and, of course, anchovy fish sauce. As the name suggests, the exquisiteness of this dish depends mostly on its anchovy fish sauce.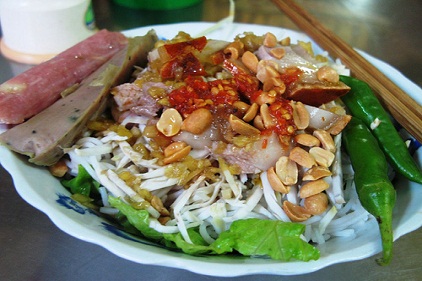 The ingredients of Bun Mam Thit Quay include rice vermicelli, roasted pork, and a tasty anchovy fish sauce. This special sauce is often mixed with fresh chopped pineapple for the aromatic and sweet taste. Those who like spicy foods often add chilli sauce to their dishes.
This delicious dish cannot be served without a variety of vegetables, which include thinly-sliced, unripe papaya, salad and fragrant herbs.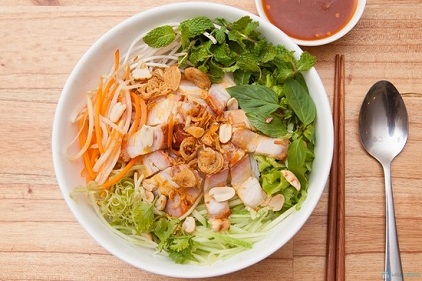 For roasted pork Bun Mam, yellow and crunchy pork is outstanding in the combination of white noodle and green vegetable. Thick pork will fulfill your mouth. However, the most important ingredient of this dish is Mam Nem (kind of fish sauce). Mam Nem in this dish is a type of fish sauce but it is used directly from sea fish after put in close tight jar at least 7-9 days for ready. The period of time is depend on climated. Unlike fish sauce which is boil and filter before used. Although we can use Mam Nem after 9 days directly, the cook usually add spices for more falvour.
A salty and spicy bowl of Bun Mam expresses the typical taste of Vietnam Central people. The combination of sweet noodle, pork and pineapple, flavorful vegetable, spicy chili, acrid garlic, and sour lime brings a charming dish. Eaters will make a hissing sound while enjoying it.