Phuket is one of the southeast province in Thailand. Blue waters, sandy beaches, great food, and diving are all part of the attraction. Arriving from all over the world, travelers flock to Phuket for relaxation and adventure, and the island rates as one of the most popular destinations in the country. Every year countless thousands of holiday makers arrive from all over the globe, to enjoy its deservedly famous sandy beaches, natural environment, and abundant attractions in what is still best described as a tropical paradise.
1. Patong Beach
Patong Beach is one of the famous beach on the western Phuket, a lot of tourists come each year. This is considered as paradise of sea tourism due to the sufficiency of good devices and facilities for activities on the beach.
Being a familiar destination, Patong beach attracts millions of visitors in every corner of the world every year. The beach is also well-known for night activities and the variety of ethnic groups (besides Thai people, you can easily see Chinese, Malaysian and Vietnamese community living around the beach).
2. Wat Chalong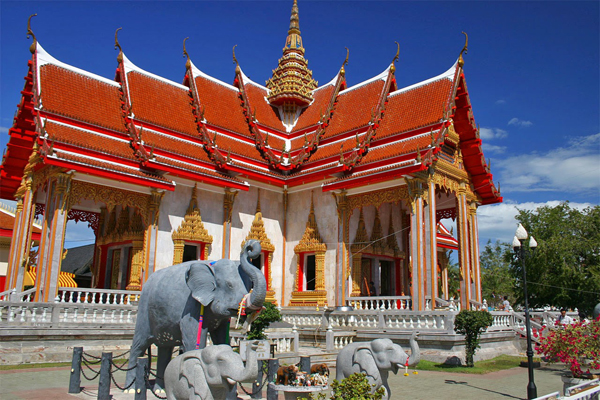 There are about 29 temples (wat) in Phuket, scattering the island. Wat Chalong area, built centuries ago, is the must-see-destination in the province. The Wat was constructed with the most magnificent architecture in Phuket, the wat complex is divided into smaller parts, the impressive above all is Poh Than Jao Wat in the west. Wat Chalong opens daily between 7 a.m and 5 p.m.
3. Splash Jungle Water Park.
Among hundreds of activities for children in Phuket, Splash Jungle Water Park is the most attractive. Although the area is not too big, the water and facilities are always available and clean. Large swimming pools, water slides and games for children are really interesting and exciting. The Water park opens everyday from 10 a.mto 6 p/m with entrance fee for adults is 1.295 baht/person, children between 5 and 12 years old in 650 baht/person, under 5 years old children is free entrance.
4. Phuket Aquarium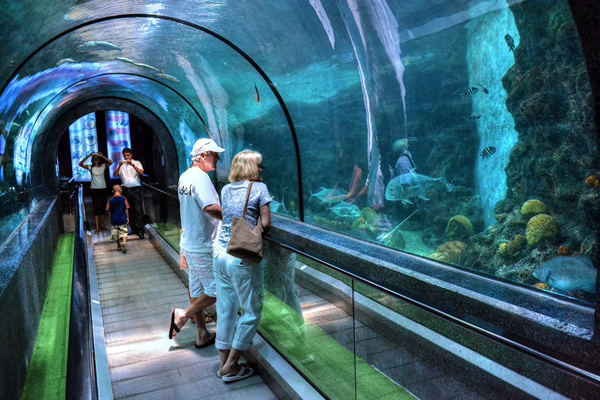 Located in Sakdidet road, Phuket, the aquarium is a particularly fun option if you travelling with kids as they can see sea creatures directly. Besides animals of the country, Phuket Aquarium display exotic species like fish, sea turtles, crabs, starfish and so on.
It opens at 8.30 a.m to 4.30 p.m daily. The admission is different from local people and visitors. With locals, it is 50 baht for each adult and 20 baht for child while visitors have to spend 100 baht per adult, 50 baht per child but free for children less than 108cm tall.
5. Snorkeling
Snorkeling provides a nice and easy alternative, especially in Thailand where the clear waters make for excellent conditions. Many boat tours include snorkeling stops around the islands, and you'll spot no end of gorgeously colored fish, sea urchins, and other fascinating creatures.
6. Phuket Cable Ski & Wakeboarding
Phuket Wake Park (formerly Phuket Cable Ski & Wakeboarding) near Kathu Waterfall is one of the most fun and challenging activities in Phuket. Whether you are a beginner or an expert, you can enjoy many exciting wakeboarding rides on a large freshwater lake equipped with two Cable systems: a short one for beginners and one that goes all around the basin. If you love amazing and challenging activities, don't hesitate to try it once.