Hoi An chicken rice is always in the must try food list of many tourists visiting Hoi An, including both domestic or international traveler. The towns Hoi An is the best place to try the Chicken Rice in Hoi An style, even though this dish has been advertised in many cities around Vietnam. Hoi An chicken rice is very simple: the recipe includes only rice, chicken, sauce and pickled carrots. But it is not easy to cook an exemplary chicken rice plate.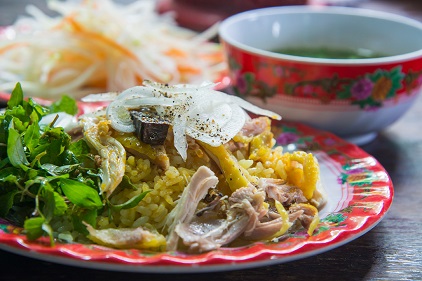 Hoi An chicken rice houses tear their chicken meat into small pieces and then mash the pieces with crushed onions, Vietnamese coriander and the other spices to the best absorb their flavors. The best cooks use free-range chickens raised in countryside gardens, not the industrial factory-style birds. Poultry raised in the gardens is stronger and delicious, with a far richer flavor than the soggy stuff produced in "industrial agriculture" facilities.
While westerners often prefer fat chicken meat, Vietnamese birds considered the best for eating are often smaller with dense, muscular meat. The trick of the recipe is to skillfully make the chicken pieces smell fragrant and spicy without loosening the meat.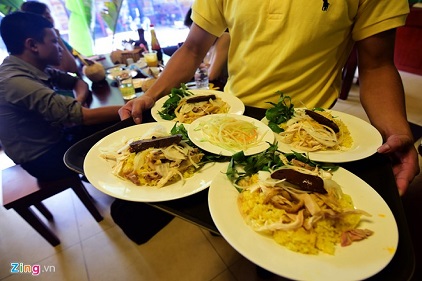 The dish is then served up with very spicy chili sauce, pepper to slow the heart various coating mix chicken liver hard, extremely attractive. The springy chicken pieces and fragrant rice is decorated with peppermint, papaya, and salted onions. The spicy dish might burn your tongue a little bit, but it's an essential part of the cultural experience in central Vietnam.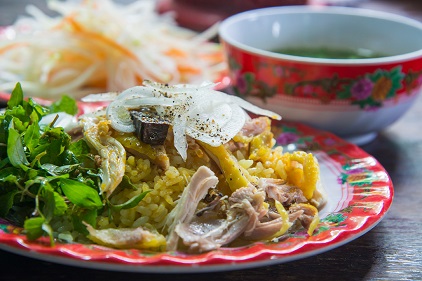 So, if you're a chicken lover, don't get so lost in Hoian's historical and cultural sites that you forget to sit down and enjoy the local cuisine. Both afternoon and evening are suitable to have Hoi An chicken rice in the menu.