Trekking is one of the main activities to do around Sapa. But which one is the right one for you to do? We checked out two different day treks to narrow down your options.
The first trek was arranged through Cat Cat Hotel and was a private walk to Silver Waterfall. Our guide was a young Hmong woman who spoke sufficient English to communicate and share some stories about her life, although she wasn't particularly chatty.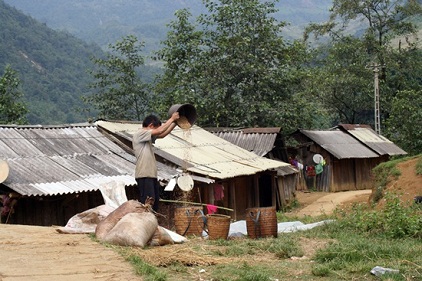 We walked directly from Sapa down towards Cat Cat village and then turned off towards Sin Chai, a Hmong village. From there we headed upwards, walking along narrow paths, across a river, over gates and through woodland. Some parts of the walk were physically challenging, requiring uphill climbs over rocks, so perhaps wouldn't suit everyone. The weather was dry and not too hot, so perfect for walking.
Lunch was bread, cheese and an apple eaten as we sat on a grassy bank and watched buffalo amble past.
Although it was just the two of us, with the guide, we still followed a fixed route — it wasn't customised. It took us through a Hmong village and afforded us some spectacular views across the valley. The finishing point, Silver Waterfall, is an impressive multi-level waterfall — from where we were picked up by a minibus for the downhill drive back into Sapa.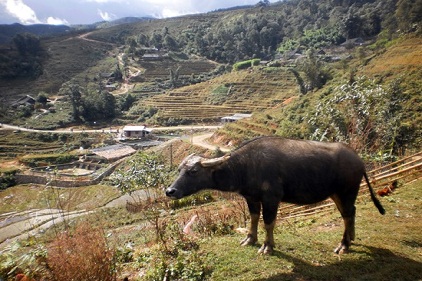 The second trek was a popular walk to Ta Phin village. Our guide was Ta May, a cheerful Red Dao woman who met us at our hotel at 09:00. We had reservations about doing the trek as it was cold and very wet, but she assured us the rain was going to stop so we bought fluorescent raincoats and off we went.
We arranged our trek through The Village Noshery, and as it was a Friday that meant our first stop was at Ma Cha school — which the organisation supports — to help serve the children soup and bread. We travelled to the school by minibus and from there the seven of us in our group started our walk.
As Ta May predicted, the sun pushed its way through the clouds as we wandered through the villages and paddy and we slowly stripped off our fetching raincoats and layers of warm clothing.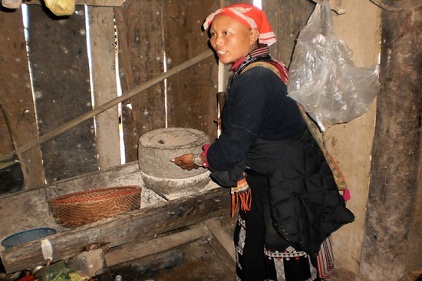 The walking was neither strenuous nor difficult; it was mostly on wide dirt tracks with occasional inclines, but nothing someone with a reasonable degree of fitness wouldn't be able to handle. We walked for a few hours — seeing no other groups — until we reached the Red Dao village of Ta Phin. Here we stopped in a riverside hut, with lunch was nothing to write home about but the noodles were tasty enough.
During our walk, more Red Dao women had joined us. They had tried to engage us in conversation but this was limited due to language barriers and a slight reticence on our part as we knew a sales pitch was coming. And come it did — as soon as the noodle dishes were cleared we were presented with scarves, bags and purses and a lot of 'buy from me'. While it's certainly understandable that the women try to make a living from the passing tourists, the pressure is quite intense and for many people may spoil the otherwise chilled out experience.
Eventually we walked a short distance to the village and visited a Red Dao house, where Ta May explained where the family ate, slept, worshipped and stored food. We had the option of taking a herbal bath, but none of us were so inclined, so we walked back the way we had come to meet our bus back to Sapa.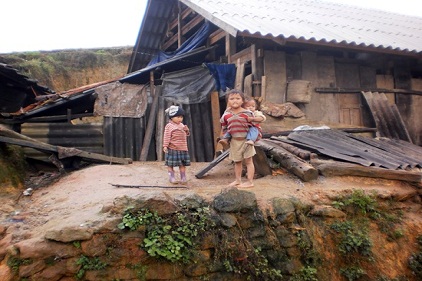 Which trek would we recommend? Both treks gave our legs a good stretch, exposed us to village life and offered heaps of photo opportunities. The trek to Silver Waterfall was more worthy of the title 'trek' whereas the Ta Phin tour could really be classified as a 'walk', so consider the degree of difficulty you're comfortable with when booking.
Think too about whether you want to take a private trek or go with a group — in this case the former was actually cheaper than the latter, so rather than cost it may come down to whether you want to meet others or are happy in your own company.
Finally, consider whether you want to wander around a village, have a nose inside houses and take a herbal bath or just be happy passing through the scenery.