Chiang Rai is an ideal destination for travellers to Thailand who love adventure and explore new things.Chiang Rai is on the north of Thailand, 170km from Chiang Mai, border with 2 countries Myanmar and Laos. Chiang Rai is said to be a paradise endowed with abundant natural tourist attractions and antiquities; the province itself is evidence of past civilization. Attractions range from magnificent mountain scenery, ruins of ancient settlements, historic sites, Buddhist shrines and ethnic villages as the province is also home to several hill tribes who maintain fascinating lifestyles.
Square: 11,678 sq. km (4,509 sq. mi)
Population: 1,207,699 (2014)
City: Chiang Rai
Districts: (18 districts): Mueang Chiang Rai, Wiang Chai, Chiang Khong, Thoeng, Phan, Pa Daet, Mae Chan, Chiang Saen, Mae Sai, Mae Suai, Wiang Pa Pao, Phaya Mengrai, Wiang Kaen, Khun Tan, Mae Fa Luang, Mae Lao, Wiang Chiang Rung, Doi Luang.
Chiang Rai is bordered with the Shan State of Myanmar to the north, Bokeo Province of Laos to the east, Phayao to the south, Lampang to the southeast and Chiang Mai to the west.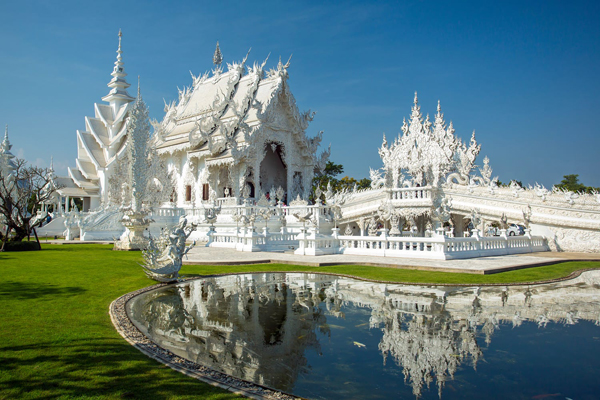 Wat Rong Khun (White Temple)
History
Populations have dwelled in Chiang Rai since the 7th century and it became the center of the Lanna Thai Kingdom during the 13th century. The region, rich in natural resources, was occupied by the Burmese until 1786.
Chiang Rai Province's golden triangle bordering Laos and Burma was once the hub of opium production.
Chiang Rai became a province in 1910, after being part of the kingdom of Lannathai for centuries. After Lanna Thai was incorporated into Thailand, it remained an autonomous region and thus the Chiang Rai area was administered from Chiang Mai.
Chiang Rai Province is a transit point for Rohingya refugees from Myanmar (Burma) who are transported there from Sangkhlaburi district in Kanchanaburi Province.
Climate
Chiang Rai has a tropical wet and dry climate. Winters are fairly dry and warm. Temperatures rise until April, which is hot with the average daily maximum at 34.9 °C (94.8 °F). The monsoon season runs from late April through October, with heavy rain and somewhat cooler temperatures during the day, although nights remain warm.
Transportation
- Air: Chiang Rai Mae Fah Luang International Airport has domestic flights to both Bangkok airports, which connect to regional and international flights.
- Boat: There is daily boat service between Chiang Rai and Tha Ton.
- Road: Chiang Rai Province is intersected by Asian Highway 2, which runs for over 13,000 km (over 8,000 miles) from Denpasar in Indonesia to Kosravi in Iran, and by Asian Highway 3, which runs for over 7,000 km (4,300 mi) from Kentung in Myanmar to Ulan-Ude in Russia.
Ethnic Group
The ethnic group in Chiang Rai is various such as: Khon Muang, Tai Yai (Shan), Akha, Lahu, Karen, Chin Haw, Hmong, Tai Lue (Dai), Lisu, Yao (Mien).
Tourist attractions and activities
There are a lot of scared places such as Wat Huai Pla Kung Temple, Wat Phra Kaeo, Wat Phrathat Doi Tong, Rong Sear Tean Temple, etc. Besides, a lot of tourist attractions are available for you to explore, they are: Tad Kwan Village Park & Waterfall, Clock Tower, King Mengrai Monument, Cherntawan International Meditation Center, Khun Korn Waterfall, Elephant Valley Thailand, Mae Fah Luang Art and Culture Park, Chiang Rai Beach, Pha Soet Hot Spring and so on.
Cuisine
Chiang Rai is known for a rich recipe and various of both traditional Thai food and foreign food. But visitors perhaps be impressed on the local dish here. The staple diet of them consists of sticky rice (glutinous rice) which is rolled into balls and served in small handmade bamboo containers. The rice is served steamed and some add sweeteners for a dessert rice. Typical main dishes in the area are dishes of curried chicken or shrimp and particularly kaeng khanun (spicy jackfruit curry), kaeng yuak (banana stalk curry), sai ua (grilled pork sausage), and Yunnanese and Burmese rice noodles. Khao soi is a noodle dish with chicken stock and chicken that is also popular. Nam ngiao is a traditional noodle dish with chicken or pork.