Bokor National Park is located in Kampot province, Cambodia which is one of 23 reservation regions in the country. This park was built in 1993 as King Norodom Sihanouk's decree. Now, it becomes the attractions in Cambodia.
Bokor National Park is 1580 km2 in area that is home for a lot of rare plant and animal species. It is also one of the most attractive places in kampot, Cambodia.
In the park, Bokor Hill Station attracts the largest number of tourists every year where the vestiges of Bokor 's thriving are remained. In 1917, French colonial empire built a luxurious resort on Bokor mountain which has all amenities and services such as school, post office, cathedral, complex amusement park with casino and hotel for French upper class who wants to avoid hot weather in Phnom Penh. In the 1950s and 1960s, members of royal family like Sihanuok king and Cambodian plutocracy also choose this place to relax. This time can be seen as the prosperous of Bokor before being devastated with rotten mortar-walls, broken windows and collapsed stairs now.
In the 1990s, Bokor is thought to be "the most uncanny place in the world" and "the ghost town" due to its eeriness and mystery. This place is also chosen to make two films named City of Ghost (2002) and R-Point (2004).
The historical milestone :
- In 1917: French colonial built a resort at Bokor.
- The War World II: Bokor seemed to be neglectful.
- In 1993: Bokor became the National Park.
To be easier to visit the park, a road was built to the top of the hill.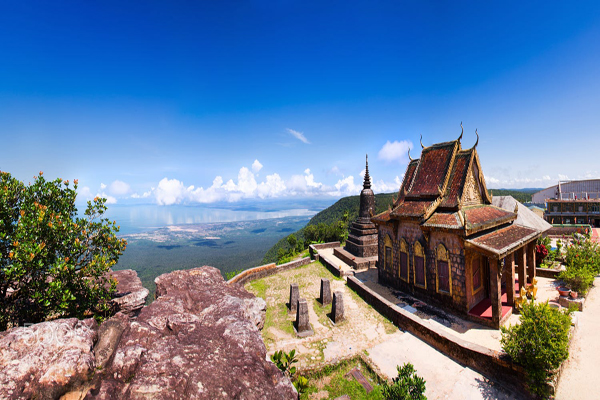 Tourist attractions in the city
- French Palace Casino & Resort: influenced by French architecture where the prosperity of French colonial in Cambodia was represented. It was started to build in 1917 and finished in 1925 that was intended for French upper-class who lived and worked in Cambodia and wanted to avoid hot weather in Phnom Penh.
- The Old Catholic Church: It was built by French colonial in the early 20th century as the provincial church in Bokor mountain.
- Popokvil Waterfall: This is the ideal place for swimming in hot days. It has two layer, the first one is 15m in height an the other is 18m. The name in English is "the bobbing clould".
- Samprov Pram pagoda: Built in 1924 by Monivong king. Inside the pagoda, visitors will have opportunity to see 90 year-old religious mural paintings.
- Thansur Bokor Highland: the most modern project in Bokor, an entertainment complex including casino, restaurants and hotels. After a long time exploring the ancient Bokor, visitors will have chance to experience entertainment services, tasty food and relaxing.
The complex of hotel - casino Bokor Palace Hotel that has not been completed yet by French colonial is also conserved and becomes the attractions in the region.